The thread list has been completely refactored.
The post list is next!
There is still some work to be done on 0.7.6 before it's ready for release. We completely refactored the HTTP call system to use CURL instead of Qt's network libraries. This has proven to be significantly faster and also fit in better to the overall architecture of Owl's design.
We have also release part of the code as an open source project as part of OwlConsole, a terminal program that offers the same functionality as Owl. The source code is viewable here: https://github.com/lulzapps/OwlConsole
We hope to have the new version of Owl released before the end of the year and we appreciate your patience!
As we announced last week, we at working on a command like interface for Owl. Here is a small preview of it in action.
With the new version of Owl we will be referring to it as "OwlReader" and we are also working on a new application, OwlConsole. This app is a console application that will enable users to navigate message boards through the command line.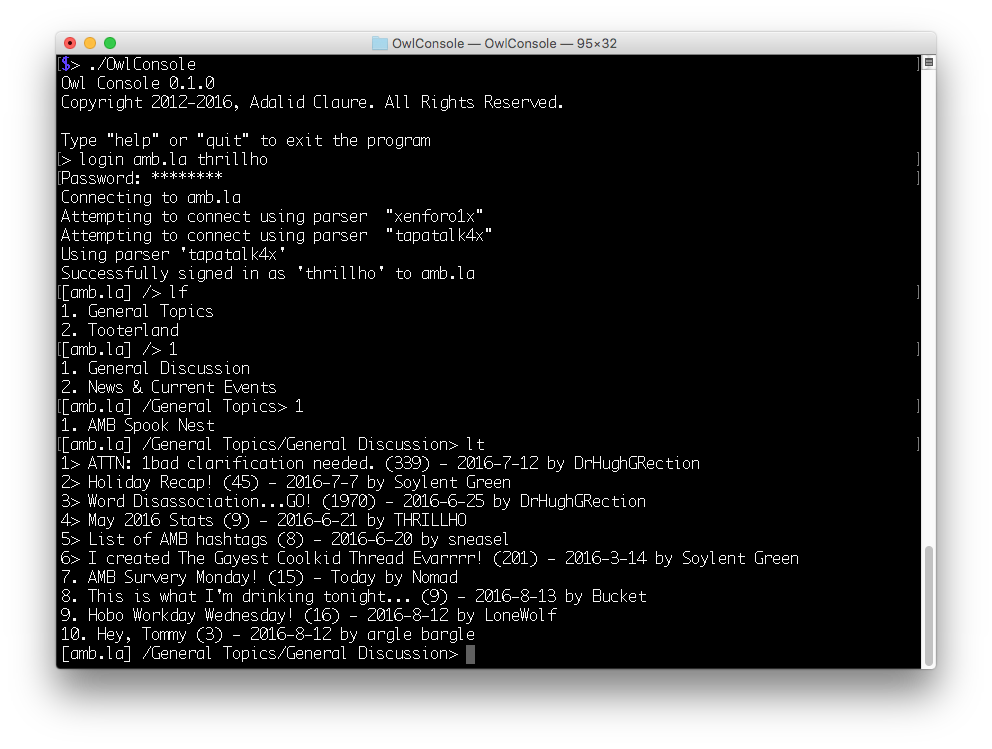 This screenshot shows some basic functionality such as logging into a board, listing the forums and listing the threads in a forum.
We hope to release OwlReader 0.7.6 and OwlConsole 0.1.0 at the same time. Look for a late September release.
The refactoring of our network code has been mostly finished. We have a few minor enhancements and bug fixes top make but the majority of the work is done!
We are also planning to do a significant refactor of our configuration system (Issue #163). We hope to have all of this work wrapped up in July and release a new version!
Today we hit a milestone of 2,000 commits into our code repository system. Woo!
The next version of Owl will include significant refactoring not just of the networking subsystem but also of the memory management. Most of these changes should be transparent to the user except for a significant increase in performance.
We are confident in saying that the next version will be released some time in July. Stay tuned for an exact date!
As mentioned, we have set out to do a significant refactor in this upcoming version of Owl. Instead of using the Qt libraries networking libraries, we are switching over to libcurl. So far we are seeing a significant increase in network performance. We are still early in the process but the results so far are promising.
If we don't encounter any significant road blocks, we may be able to get this version out some time in July and move on to other features for future releases.
The next version of Owl will be version 0.7.6. This version will include a major rewrite of the networking code that Owl uses to communicate. To the end user the next version of Owl will seem very similar to the existing version since most of the work being done is "under the hood".
We have identified a few bugs with version 0.7.5, namely related to Tapatalk and the OS clipboard. Issues such as these will be resolved in the next release.
We hope to have the next version released some time in August!
A new version of Owl is available on the Mac App Store.
Many of the tasks we slated for the next version of Owl have been complete. The one remaining issue we have for this version is Bug #181 which affects only some boards that use Tapatalk. We anticipate that this issue will be resolved tomorrow and hope to have Owl v0.7.5 submitted to the Apple store tomorrow afternoon!
We are already looking ahead to the next version, in which we hope to add support for user avatars in order to improve the visual appeal of the application. We are also exploring other features such as a way to filter and easily search through forums, threads and posts that are displayed, as well as Reddit support.